My morning agenda included a stop at the local library for preschool story time. While I was there, I picked up a fascinating picture book. And I'm not referring to a child's story book.

Photographing Montana: The Life and Work of Evelyn Cameron by Donna Lucey is a compilation of the journal entries and the photographs of an English immigrant from 1894-1928. Cameron began taking photographs to supplement the family income after their dream of raising polo ponies didn't pan out.

Lucky for us.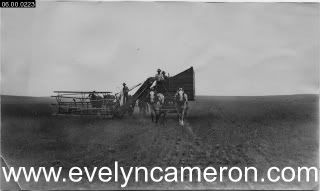 The result of an agricultural venture gone bad is a collection of hundreds of photos that give us a glimpse into Montana life 100 years ago.




One observation that struck me was the contrast in the size of the barns




in comparison to the size of the houses.




So, for those of you who were wondering about life for the former inhabitants of this place




or this one,




or this one,




take a look at the photo gallery at http://www.evelyncameron.com/.

It's worth an afternoon.